Director General's Profile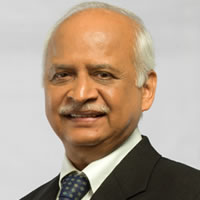 Bhavesh Patel, a Senior Fulbright Research Scholar from USA to Lebanon, 2008-09, is currently Director General, Adani Institute for Education & Research (AIER), an umbrella body of two institutions namely, Adani Institute of Infrastructure Management (AIIM) and Adani Institute of Infrastructure Engineering (AIIE).
He studied at Bhavan's College, Dakor (Gujarat) to earn his degree Bachelor of Commerce (1974), I. V. Patel College of Commerce, Nadiad (Gujarat) to earn degree Masters of Commerce (1976) both from Gujarat University. He earned his Ph. D. in finance in 1990 from Sardar Patel University, Vallabh Vidyanagar, Gujarat.
Bhavesh Patel is in academia for forty years now. In the initial academic career he taught at the Bachelor of Business Administration Program, B. J. Commerce College, Sardar Patel University, Vallabh Vidyanagar, Gujarat, before joining finance department of XLRI, Jamshedpur in 1985. After 15 years at XLRI, Jamshedpur he shifted to USA, where he worked for a brief time in industry for designing financial reporting systems and then taught at California State University, Stanislaus for a semester in 2001-02 before joining Myers University, Cleveland, Ohio in 2002. In April 2009 he returned to India to join as a Director of School of Petroleum Management, Pandit Deendayal Petroleum University, Gandhinagar, Gujarat. From October 2009 to March 2010 he also held charge as Director General of the University. In December 2011 he joined Ahmedabad University as Dean of Amrut Mody School of Management.
Bhavesh Patel has taught several courses in corporate finance, investment and management accounting at undergraduate as well as graduate level; in a traditional format and in online environment; and to young and adult learners. He has designed an integrated business management game and also some decision support systems for classroom teaching and executive training. He has a wide experience of business consulting and executive training in India and abroad.
He has published five books including one in USA. He has also published self-instructional materials on Project Management, Entrepreneurship Management and Project Management for Retail for more than thirty universities of India. He has several publications (research papers, articles, chapters in edited books, book reviews, cases etc.) to his credit in India and abroad. He is also a reviewer of papers for many conferences and journals and a doctoral thesis examiner for Universities in India and abroad.
Bhavesh Patel has been organizing annual international conferences in USA since 2003 and also outside USA since 2008 under the aegis of International Academy of Business and Economics (www.iabe.org) of which he is a cofounder and served it as a President as well as Vice President. He is associated with fourteen refereed journals published by IABE, USA, one published in UK and two journals of India. Of these journals he is a Managing Editor of two refereed journals.
Bhavesh Patel, Ph. D.
Director General,
Adani Institute of Infrastructure