Trustee's Message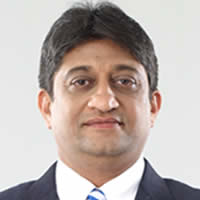 Greetings to the youth of India!
After more than six decades of freedom, every single Indian is still waiting to see the day dawn when our country can be called as truly developed. Many of us wonder if we shall be fortunate enough to see a developed India within our life time. How can we alleviate the ill effects of 200 years of foreign rule in one go? Is there a magic wand that can change our country for the better? There is! Education! Nelson Mandela said and I quote "Education is the most powerful weapon which you can use to change the world."
With improved education comes the requirement for increased career opportunities. Our nation and its youth are infused with hope, especially after our Hon'ble Prime Minister Shri Narendra Modi launched his campaign of "Make in India" on 15thAugust 2014. The Make in India campaign shall attract Foreign Direct Investment (FDI) from abroad which in his opinion should also stand for "First Develop India".
For "Make in India" to be successful, we need to strengthen its basic Infrastructure like roads, power, port, mining, airports, railways, oil & gas pipelines, renewable energy or social infrastructure like primary education, primary healthcare, academic institutes, water supply, waste management, vocational training, etc. such that a robust and ready platform is available for FDIs.
Adani Group is India's leading integrated infrastructure conglomerate which has invested in various infrastructure verticals like resources, logistics, energy and agriculture to facilitate nation building. It works directly with the communities it touches through its projects with a dedicated CSR team and strives to bring inclusive growth in India. Operating in multiple infrastructure verticals has given us the understanding of this sector, encompassing strategy, policy, planning, execution, operations, growth and sustainability.
Our Chairman Mr. Gautam Adani believes that not one organisation but a participative programme with a collaboration of many large corporates as well as the people of India, along with government support, that will convert our Dream of a prosperous India into Reality.
Adani Institute for Infrastructure has been established and promoted by the Adani Group drawing upon its strengths as India's leading integrated infrastructure player. The main objective is to equip the youth to "Be the Nation Builders" by imparting high quality education and train them to shoulder engineering and managerial responsibility in infrastructure and allied sectors of economy. Qualified and educated youth equipped to cater to the Make in India campaign can become the Nation Builders with their skills that shall provide the key human resource needed to boost the Make in India Campaign a grand success.
The Adani Institute for Infrastructure will be the first of its kind in India which will impart academic curriculums successfully linked with industry interface and applied research giving the right blend of infrastructure management as well as technical aspects, creating minds which are solution finders, creating passion for contributing for country's pride, exposing youngsters towards world best practices of the sector and preparing them to put it to use at the early stages of their career, creating competencies which are the basic necessity of the country today and creating careers which are not only financial success but also fulfilling and aligning with the nation's need.
The project and team based learning will help students to enhance their emotional quotient (EQ) which is extremely important for the sustainable success of any individual. Also it will help a student, to not only develop his/her capacities, but to understand his/her own highest interest in building infrastructure asset.
We are completely committed to become a Centre of Excellence for Infrastructure and are totally backed by India's leading integrated infrastructure entity – the Adani group who are India's largest port company, India's largest private power company and owners of India's largest edible oil brand – Fortune.
The Adani Institute for Infrastructure is looking to train and groom the "Nation Builders". Do you have it in you to be one amongst the brightest minds who will "Build India"?
Come, join us and make a career for yourself as you make your country! Be the nation builders!
Dr. Malay Mahadevia
Trustee,
Adani Institute of Infrastructure