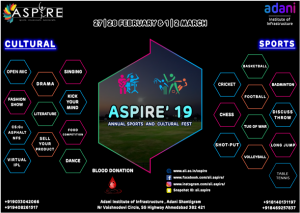 Ignite their passion, Illuminate their hope,
Exhilarate to give their best while inspiring the society
INTER-COLLEGE SPORTS AND CULTURAL FESTIVAL
---
Aspire, the ASPIRATION of collaborating the youth of India at ADANI INSTITUTE OF INFRASTRUCTURE (AII) by providing a platform to 'ignite', 'illuminate', and 'exhilarate' to achieve something big.
Aspire, with its inception in the year 2017 has witnessed diverse participants, performers, and patrons who collaborated with a common cause of achieving a positive sustenance for the youth. Aspire, a student-driven activity, looks forward to benchmark its previous editions to do something better than before, always… To achieve this competitive advantage, Aspire believes in the YOUTH. Aspire 2019 is on 27th-28thFebruary and 01st-02nd March..
---
SPORTS:
CRICKET – The most elegant of outdoor games is here – the one which is not just a sport but an emotion for the entire nation! It's time to get out of the crowd and get on to the field! Gather your team of 11 and hit it out of the park.
FOOTBALL – The sport which occupies the hearts of billions in this world! Football-enthusiasts, are you ready to outscore your opponent by kicking the ball through the goalpost? What are you waiting for? Put on your studs and shin-pads to get ready for some gruesome tackles!
VOLLEYBALL – Now is the time to rise and strike the ball over the net before your opponent volleys it back! Volleyball enthusiasts – Come and be a part of this grand event!
BADMINTON – The sport that has always resonated among the youth – it's here! Badminton enthusiasts – Time has come to grab your rackets and smash your way to the grand win!
CHESS – Are you ready to exercise your brain and churn your hidden intellect? Make your moves to 'check & mate' your opponent – Come and be the victorious king!
TUG OF WAR – The sport that directly puts you against your opponent in a challenge of strength and energy! Are you ready for the hurdle and pull it in?
TABLE TENNIS – Get ready for the most sought after sport for college goers – the one that tests your precision and swiftness while warming you up inside out! Get ready to play it back and forth over the net and smash your opponent out!
LONG JUMP – The long jump is an athletics contest which involves jumping as far as you can from a marker which you run up to. Focus Higher and Jump!
SHOT PUT– The shot put is a track and field event involving "putting" a heavy spherical object—the shot—as far as possible. Just keep on believing in yourself and turn it into something positive.
DISCUS THROW-The discus throw is a track and field event in which an athlete throws a heavy disc—called a discus—in an attempt to mark a farther distance than his or her competitors. I can't change the direction of the wind, but I can adjust my sails to always reach my destination.
CARROM-Carrom is a cue sport-based table-top game of South Asian origin. Never stop doing little things for others. Sometimes those little things occupy the biggest part of their hearts.
---
CULTURAL:
COMIC ENERGY – They say laughter is the best medicine, and we are handing out the prescriptions. The stand-up comedy event is a place to be.
RHYME AND REASON – Passionate about poetry? This event is where you'll want to be. Need we say more?
SHAYARNAMA – Pay homage to one of the oldest forms of Urdu art by participating in this event.
ALL THAT JAZZ(Solo Dance) – Why walk when you can dance?!
JUMP AND JIVE(Group & duet Dance) – Why walk when you can dance?!
SWAR AANGAN(Solo Singing) / CRESCENDO (Group Singing) – Music is food for soul. Feed your soul by participating in the music events.
JUST A MINUTE – You have got to be quick and you have got to be precise. You have just a minute.
DEBATE – It's a battle! Battle of words!
ELOCUTION – Looking for a platform to express your views? We have got you covered.
PICTIONARY – If childhood nostalgia cannot convince you to sign up for this,we're not sure even we can!
ETHEREAL VISIONS(Fashion Show) – Life isn't perfect but your outfit can be. Show off your own style.
SKIT – Think you can take on the stage by yourself? This is the place you want to be!
NUKKAD NATAK – Nukkad Natak is a form of theatrical performance and presentation in outdoor public spaces without a specific paying audience. They are especially seen in outdoor spaces where there are large numbers of people.
MONO-ACTING – Think you can take on the stage by yourself? This is the place you want to be!
SELL YOUR PRODUCT – Looking for a platform to showcase your marketing skills? This event is just for you!
EAT EAT REPEAT – People leave, but food is forever. Isn't it?? Showcase your cooking talents in this event.
RANGOLI – The participants will be given themes and they will draw as per their choice.
SOAP CARVING– Soap and education are not as sudden as a massacre, but they are more deadly in the long run. Wood carving and stone carving is too mainstream! Shall we interest you in soap carving.
LAN GAMING EVENTS
ASPHALT 8– AIRBORNE TOURNAMENT
COUNTER STRIKE – Global Offensive
NFS MOST WANTED – BLACK EDITION TOURNAMENT
MOMENTS OF ASPIRE 2019