Why is this required?
Professional & successful business organisations need a strong talent pipeline of business leaders who have strategic thinking and decision making capabilities. There is no other way to build an organisation than hiring people with or developing such capabilities while at work. High growth organisations would continue to have competing resource demands from businesses and departments within them, while the resources are constrained. The resources have to be necessarily directed towards activities that maximise profits and the growth potential of an organisation.
However, more often than not, executives and functional teams work in silos and tend to lose sight of the overall business strategy & profitability. The modern business leader needs to show empathy and have negotiation skills to secure his share of resources and understand financial implications of every business decision in a competitive context while securing internal cross functional team support. Simultaneously, they also need to be focused on internal & external customers, to build a strong performance and demand pipeline. While some of these skills could be developed in isolation through focused training efforts, integration requires a higher level of training intervention which borrows from experiential learning tools, like business simulation in a formal classroom environment.
Objective of the programme
Skills such as devising a business strategy, cross functional appreciation, team working in a real problem context, competitive decision making, customer centricity, prioritising challenges and organisational alignment are best learnt at the job but the cost of failure in a real work environment is high. Modern Simulation pedagogy helps in creating an experiential learning environment in class by replicating a virtual competitive industry environment where the participants don different functional hats and take competitive business decisions in a team environment with a clear vision & strategy in place. Learning by doing ensures that the learning sticks.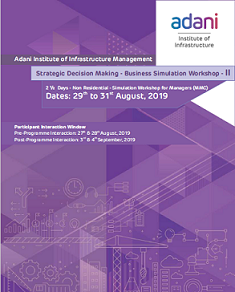 Download Brochure
—————————————————————————————————-