Why is this required?
Finance is said to be the life line of every business; and for good reason too! Being a key resource, it requires managers to be financially savvy, for them to be able to take the right business decisions.
Be it familiarity of financial jargons and ratios, quick inference of financial sheets, sharp understanding of the dynamics of cost control and nuances of pricing or communicating financial implications to fellow managers and juniors.
Hence, the Finance for Non Finance-Executives can be profoundly effective in upgrading the financial skills of a manager; and consequently the performance of the business.
This 3 day, full time residential programme is delivered in an easy to understand manner, using case studies to create a highly practical experience for managers for immediate upgradation of skills required in the business environment.
Objective & Learning Outcomes:
The objective of the programme is to enable participants – executives from different functional areas, to:
Understand various and multiple terminologies in financial sheets.
Enhance their understanding and interpretation of data contained in financial sheets.
Construct and report financial statements, and build cost controls.
Evaluate managerial choices of alternative accounting practises.
Advance their financial decision making abilities, and understanding its cascading impacts better.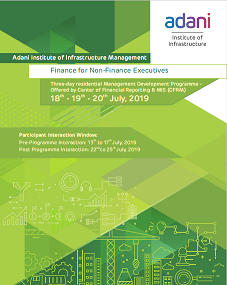 Download Brochure
—————————————————————————————————-